TikTok is a rapidly growing social media platform that has become increasingly popular with young people and millennials in recent years. With its easy-to-use features and engaging content, it's the perfect place to make money online by creating and sharing your own videos.
Try affiliate marketing
The first step to trying affiliate marketing on TikTok is to create an account on the platform and start building a following. This can be done organically by creating engaging content that resonates with your target audience and attracting followers through effective marketing strategies like using hashtags, engaging with other users, etc.
Once you have established a solid presence on the platform, you can begin exploring various affiliate programs and partnerships that will help you monetize your account. Some of the most popular options include promoting products or services related to your niche, working directly with brands or influencers to promote their products in exchange for commissions or payments, and partnering with other users via referral programs to earn additional revenue streams from sales that are generated through your network.
It is important to be strategic about which offers you choose to promote as well as how you go about promoting them on TikTok. For example, one effective strategy is to find relevant trending topics within your niche and create content around those topics that draws attention to the products or services that you are promoting. Additionally, it can be helpful to engage with other users who are also active in your niche so that potential customers can see that you have an established reputation within the community and may therefore be more likely to trust your recommendations.
Finally, it is critical to keep track of your performance metrics such as click-through rates, conversion rates, and social media engagement metrics while experimenting with different approaches in order to optimize your results over time. By tracking these metrics carefully and adjusting your strategy accordingly, you can ensure that you are always making the most of affiliate marketing opportunities on TikTok in order to generate consistent income streams over time.
Collaborate with creators on TikTok
First and foremost, it is important to have a clear understanding of what your goals are when collaborating with a creator on TikTok. Are you hoping to build your own following and brand, or are you looking to promote specific products or services through the platform? By having a clear goal in mind, it will be easier for you to identify suitable creators for collaboration and to form mutually beneficial partnerships that can help drive success for both parties.

Once you have identified potential creators, the next step is to reach out and start crafting a proposal or pitch that highlights how the two of you can work together effectively. This might include outlining how you can create content together for mutual promotion, sharing ideas about what types of content would resonate well with your target audiences, or outlining any other ideas that could help drive engagement on TikTok.
Additionally, it is important to have clearly defined criteria when choosing which creators to collaborate with on TikTok. For example, you may want to focus on working only with creators who already have established followings in order to ensure maximum exposure and engagement for your content. You may also want to consider factors like their tone and style of content creation so that there is a good fit between them and your brand or product.
In order to successfully collaborate with a creator on TikTok, it is also vital that you pay attention to factors like timing and scheduling as they can have a big impact on the success of your partnership. For example, if both of you have busy schedules or varying time zones, it may be helpful to set up regular check-ins or planning meetings so that any communication gaps or misunderstandings can be resolved quickly and efficiently. Additionally, ensuring that both parties are fully committed and invested in the collaboration will go a long way towards helping it succeed over the long term.
Ultimately, one of the keys to successful collaborations with creators on TikTok is building strong relationships based on trust and mutual respect. By investing time in getting to know each other as people as well as professionals and nurturing open communications channels throughout the process, both parties will be better able to work together effectively and make money while doing so on this dynamic social media platform.
Publish sponsored posts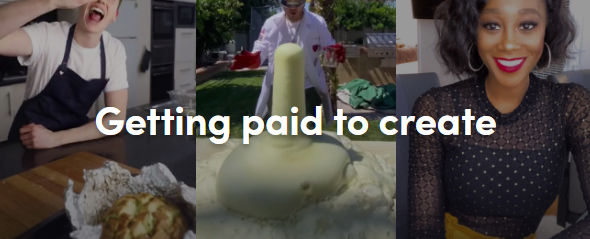 The first step to publishing sponsored posts on TikTok in order to make money is to build an engaged and active audience. This can be done by posting regularly, engaging with your followers, and creating high-quality content that resonates with your target audience.
Once you have a loyal and engaged following, you can begin reaching out to potential sponsors or advertisers who may be interested in working with you on sponsored posts. You can do this by contacting relevant brands or advertising agencies directly, or by signing up for influencer marketing platforms that connect brands and creators like you.
When reaching out to potential sponsors or advertisers, it is important to highlight the value of your audience and the impact that a sponsorship could have for their brand or product. To help convince potential partners of your worth as an influencer, be sure to include details about your reach, engagement metrics, follower demographics, and previous collaborations in your pitch.
Once you have secured a sponsorship deal with a brand or advertiser, it is time to create the sponsored post itself. Ideally, the post should align closely with both the values of your brand partners and the interests of your followers so that it feels authentic and resonates well with your audience. You should also ensure that any calls-to-action included are clearly visible and easy for viewers to follow so that they can take advantage of any promotional offers included in the post.
Finally, once you have published the sponsored post on TikTok, it is important to track its performance so that you can effectively assess how effective this strategy was for both yourself and your sponsor partners. Some useful metrics to track include views, shares, clicks through links or calls-to-action included in the post, as well as any other engagement metrics such as likes or comments from followers. By continuously analyzing these metrics over time, you can gain valuable insights about what types of content work best for your audience and optimize future posts accordingly in order to maximize their success.
Join the TikTok Creator Fund
The first step to join the TikTok Creator Fund and make money on TikTok is to create a unique and engaging profile on the platform. This involves uploading your best videos, choosing an eye-catching username, and adding a compelling bio that outlines your unique talents or interests.
Once you have created your profile, you will need to start building an engaged audience on TikTok by sharing quality content regularly and engaging with others in the community. This may involve using popular hashtags, creating collaborations with other users, or participating in popular challenges and trends that are relevant to your niche.
To join the TikTok Creator Fund and start making money on TikTok, you will also need to prove that you are a valuable creator who can bring value to advertisers and brands. One way to do this is by growing your follower count, but it's also important to focus on building a loyal and engaged audience who truly connects with your content.
When you feel that you have established yourself as a successful creator on TikTok, it's time to start pitching yourself to potential advertisers or brand partners who are looking for creators like you. This may involve sending them custom proposals outlining what value you can bring, as well as working closely with their team to come up with high-quality sponsored content that resonates with both parties.
If all goes well, it won't be long before you start seeing regular revenue from advertising partnerships on TikTok, all while growing and promoting your own personal brand in the process! Whether you're hoping to become a successful influencer or simply use TikTok as a fun way to earn some extra income on the side, joining the TikTok Creator Fund can help take your career online to the next level.
Create a Patreon account
The first step to creating a Patreon account and making money on TikTok is to sign up for an account on the platform. To do this, you will need to visit the Patreon website and click on the "Sign Up" button at the top of the screen.
Once you have signed up for an account, you will be taken to your new profile page where you can start customizing your Patreon page by adding a profile photo and description about yourself or your brand. You should also make sure that all of your social media accounts are linked so that potential patrons can easily find and follow you.
Next, you will need to create a fundraising campaign on TikTok that lets people know what it is that you are offering in exchange for their support. Some common types of campaigns include offering perks like exclusive content, access to special events or discounts on products or services, as well as monetary donations or tips in exchange for certain rewards.
After creating your campaign and setting a funding goal, it is time to promote your Patreon page across all of your social media channels so that more people can discover your work and support you financially. You can share videos, images, blog posts, or other types of content on platforms like Instagram, Facebook, Twitter, or Snapchat to help build hype around your campaign and drive engagement with potential patrons.
Finally, once your campaign is live and gaining traction with supporters on TikTok, it is important to keep them engaged by regularly updating your page with new content and thank-you messages for their generosity and support. This could involve posting short videos or livestreaming sessions from time to time so that followers never feel left in the dark about what's going on behind-the-scenes with your brand or business.