Tiktok, the popular short-form video sharing app, has become a major platform for content creators to make money online. This is due to several factors, including the large user base on Tiktok, the ease of creating and editing videos, and the wide range of monetization options available to creators.
Why choose to make money on TikTok?
First, with over 500 million monthly active users (MAUs), Tiktok has one of the largest user bases among social media apps. This means that content creators on Tiktok have access to a large and engaged audience who are open to consuming their content. As a result, they can easily build a following and develop a dedicated fan base that is willing to support them financially by subscribing or making donations. You can learn more about how to earn money on TikTok in 2022: 8 Strategies to be a Freelancer.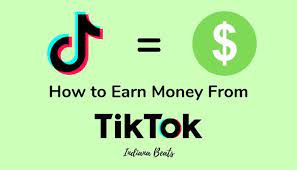 Second, creating and editing videos on Tiktok is simple and straightforward. Many users are able to produce quality content without having any prior experience or technical knowledge in video production or editing. This allows them to focus on developing engaging content that resonates with viewers and encourages them to engage with and share it with others.
There are many different ways for creators on Tiktok to make money from their videos. Some of these include selling their own products or merchandise through affiliate links or advertising on their channels; partnering with brands for sponsorships or product placements; monetizing their videos through brand licensing deals; or receiving income from branded partnerships or other sponsored campaigns. With so many monetization options available, many content creators are now able to make a living by producing high-quality videos on Tiktok. Overall, the popularity of making money on Tiktok stems from its large user base, ease of use, and multiple monetization options available for creators.
How to make money out of TikTok?
The first tip to make money on TikTok in 2022 is to build a large and engaged following on the platform. To do this, you should post regularly, using high-quality content that resonates with your target audience, and engage with other users by liking and commenting on their posts.
Another tip for making money on TikTok in 2022 is to use hashtags and geotags strategically. This will help increase the reach of your posts as more people will be able to discover them organically through search results or trending topics.
A third tip for making money on TikTok in 2022 is to collaborate with influencers who already have large followings on the platform. This can help expose your brand or content to a new audience, which can then lead to increased engagement and follower growth over time.
To further boost revenue potential on TikTok, consider using ads or sponsored content within your videos or posting native advertising campaigns that are targeted at specific audiences based on interests or demographics.
Finally, you can also monetize your TikTok account directly by signing up for its affiliate program, which allows you to earn commissions by promoting TikTok products through links and special codes shared across social media platforms like Instagram or Facebook.
5 easy ways to help you make money out of TikTok:
Build up a strong following by creating high-quality content that is unique and interesting. This can take time, but once you have established yourself as an authority in your niche, you can start monetizing your content by partnering with brands or selling products directly through your channel.
Product endorsements – this involves collaborating with brands or advertisers to promote their products in your videos or posts in exchange for a commission or payment.
Running ads on your channel or videos – this generally requires using the TIktok partner program, which allows creators to earn ad revenue from their content by displaying ads from the platform's approved advertisers on their channels.
You can also monetize your content by publishing paid sponsored posts or getting paid for creating custom videos for brands and businesses – these types of collaborations typically involve working with a marketing agency that specializes in connecting influencers with companies looking for promotion on social media platforms like TIktok.
The key to making money on TIktok is developing a strong following by creating great content that resonates with your audience and building relationships with brands and businesses who want to work with influencers like you. With patience and persistence, it is possible to turn your presence on this platform into a source of income and success!
Learn more about

How to earn money as a beginner on TikTok?