One way to start earning money on TikTok is to generate a large following on the platform. This involves consistently producing high-quality content, engaging with your followers, and growing your reach through strategic use of hashtags and cross-promotion with other influencers.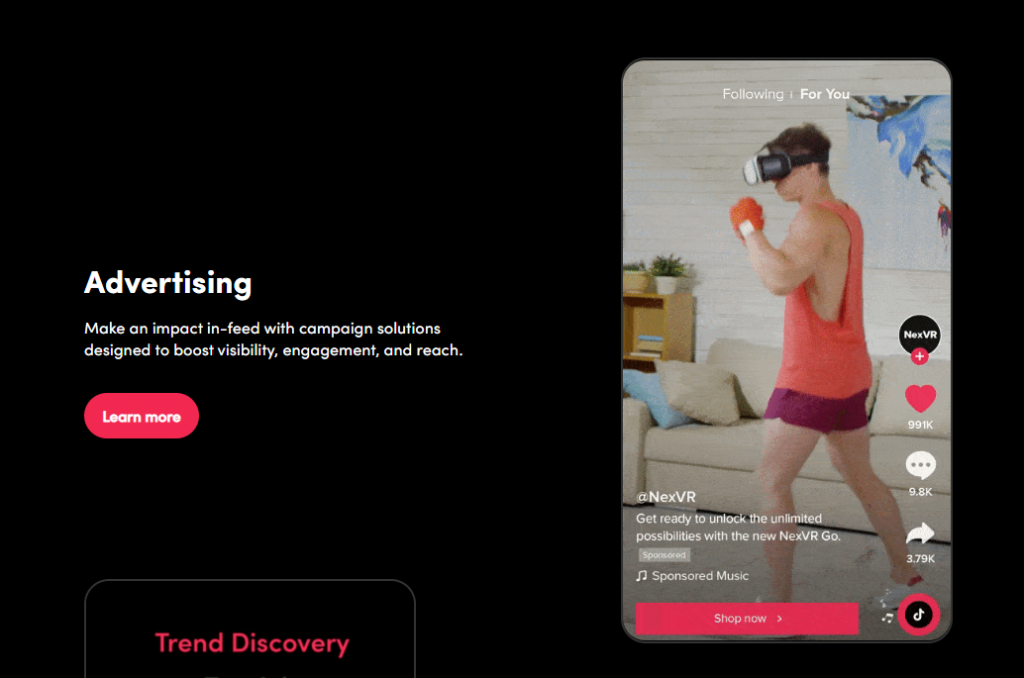 Create in-feed ads with the TikTok ads manager
1.Sign up for an account
To make money on TikTok by creating in-feed ads, first you need to sign up for an account on the platform and learn how to use its ads manager. This will allow you to create engaging ad campaigns that can be placed within the main feed of videos on TikTok.
2. Start thinking about what kind of content you want to create
Once you have signed up, you will need to start thinking about what kind of content you want to create for your ads. Some effective strategies include creating short videos that are highly engaging, interesting, or humorous, or even producing animated graphics or memes that people will want to click on and share with their friends.
3.Reach the right audience
You should also focus on targeting your ads carefully so that they reach the right audience. For example, if your content is aimed at teenagers, then you might want to target your ads towards users who are in this demographic and who are likely active on TikTok.
4.Sponsored posts or promoted stories
Once your ad campaigns are created and targeted correctly, it's time to start promoting them through paid advertising methods like sponsored posts or promoted stories. These will help you get more views and engagement from your target audience, which can ultimately lead to increased profits from your in-feed ads on TikTok.
5.Produce high-quality content
Ultimately, the key to success with in-feed ads on TikTok is consistency and creativity. If you can consistently produce high-quality content that resonates with people, then you will be well positioned to make money through this powerful platform over the long term.
Crowdfund projects by collecting donations from fans on TikTok
1. Identify a project or cause that fans might be interested in supporting
The first step to making money on TikTok through Crowdfund projects is to identify a project or cause that fans might be interested in supporting. This could be a charity, community organization, or artistic endeavor that you are passionate about, and that you believe has the potential to attract support from other users on the platform.
2. Create engaging content
Once you have identified your project or cause, it's time to think about how you can create engaging content that will encourage others to donate to your cause or contribute to your project. Some effective strategies for doing this include creating short videos showcasing the work you are doing, hosting live Q&A sessions with contributors, or posting regular updates about the progress of your project or fundraising efforts.
3. Crowdfund projects
Another key component of successfully generating donations and contributions through Crowdfund projects on TikTok is building a strong social media presence and developing relationships with other influencers and fans on the platform. This can be done by tagging other users in your posts and engaging with their content regularly, participating in discussions in relevant TikTok groups and forums, and connecting with like-minded individuals who share your passions and interests.
4. Donations or contributions
Once you have built up a solid network of supporters on TikTok, it's time to start actively asking for donations or contributions towards your project or cause. You can do this by directing fans to a dedicated donation page where they can learn more about what you are doing and how they can help out. Another effective strategy is offering rewards or incentives such as exclusive merchandize, shoutouts from your account, or early access to exclusive content for those who make donations at certain levels.
Finally, remember that success on TikTok is often about persistence and consistency over time – so keep working hard and engaging with fans day after day until your Crowdfund project becomes successful! With enough passion, effort, creativity, and authenticity, there is no limit to how much money you can make on TikTok through Crowdfund projects aimed at collecting donations from fans around the world.
How can you earn money on TikTok:3 Tips
1. Start working with brands to sponsor or co-create sponsored content
Once you have established a strong presence on TikTok, you can start working with brands to sponsor or co-create sponsored content that will help you generate revenue. This may involve posting branded content on your channel or creating short videos specifically for advertisers or sponsors.
Another way to earn money on TikTok is to monetize your existing content through ads or affiliate marketing programs. This can involve collaborating with brands directly or partnering up with online advertising platforms that allow you to insert ads into your existing videos and/or drive traffic to external sites where people can purchase goods or services through affiliate links.
3. Third-party apps
In addition to these direct monetization strategies, there are also a number of third-party apps that allow TikTokers to earn money from their content in various ways, including surveys, contests, product reviews, and polls. 5. Ultimately, the best way to make money as a TikToker is by building relationships and working closely with brands over time to create long-term partnerships that can generate consistent income streams over time. With hard work, creativity, and perseverance, it is possible for even relatively small accounts to become successful businesses in this rapidly growing social media space.