TikToking has become a popular pastime among people of all ages, but many are curious about how much money they can make by posting videos on TikTok. While the amount that you can earn as a TikToker will vary depending on your level of skill and dedication, it is generally possible to make a good living from this platform.
This passage will tell you how much do TikTokers make and how can you start to make money on TikTok. You can learn more about how to make money on TikTok in 2022 and download TikTok videos with ease from here to begin as a freelancer.
How do TikTokers make money on TikTok?
When it comes to make money on TikTok, there is no simple answer. The amount that a person can earn from TikTok depends on a number of different factors, including their level of engagement with the platform, how popular they are, and how they choose to monetize their content.
One common way that TikTok users make money is through sponsorships or partnerships with brands. This typically involves creating branded content for companies or products, and getting paid in exchange for promoting those products to your followers. Some users also earn money through product sales or affiliate marketing programs.
In general, more popular and active users tend to make more money than less popular and less active users on TikTok. However, even small accounts with only a few thousand subscribers can earn a decent income if they post regularly and maintain good levels of engagement.
There are also several different ways that users can monetize their videos on the platform, including ads from YouTube and Instagram creators programs, as well as paid memberships or subscriptions available directly through the app. Ultimately, how much you can make on TikTok will depend largely on your specific strategy and what types of content you choose to create.
How much do TikTokers make?
The first thing to consider when looking at potential earnings on TikTok is the type of content that you create. Some types of videos, including memes and reaction videos, are likely to attract more views and engagement than others, which means that you will be able to make more money from them. Additionally, you may also want to focus on creating content that appeals specifically to younger audiences, as these viewers tend to be more engaged with the platform overall and are therefore more likely to view your videos regularly.
Another important factor that can impact your earnings on TikTok is your level of engagement with other users in the community. For example, if you frequently engage with other users in comment sections or through private messages, you may be seen as a valuable member of the community and thus be rewarded with higher viewership numbers for your content. Likewise, if you collaborate with other popular TikTokers or promote their content through your own account, you may also see an increase in viewership and thus earnings.
In general, most experienced TikTokers can realistically expect to earn anywhere from a few hundred dollars per month up to several thousand dollars per month depending on the quality and popularity of their content. Of course, there is always the possibility of earning even more if your efforts lead to viral success or if you are able to partner with brands or advertisers who are willing to pay higher rates for sponsored content. With persistence and dedication, it is certainly possible for anyone to build a successful career as a professional TikToker in 2022!
Start to make money on TikTok!
The first step to making money on TikTok is to create quality content that your audience will love and engage with. Some key things to keep in mind when creating content for TikTok include using short, snappy cuts and incorporating interesting visual elements like stickers, filters, and emojis. If you want download TikTok videos free and get more inspirations for your creation,you can download TikTok video without watermark from our website. Additionally, it's important to post regularly and consistently so that your followers always know when they can expect new content from you.
Once you've established a strong foundation of quality content on your profile, the next step is to start actively engaging with other users on TikTok in order to grow your following and build relationships with other influencers in your niche. You can do this by liking, commenting on, and sharing other users' content or by reaching out directly and engaging with them through direct messages or comments.
As you begin to grow your following on TikTok, you'll also have the opportunity to monetize your account by collaborating with brands who are looking for exposure on the platform. One popular way to do this is by signing up for paid partnerships through influencer marketing platforms like Famebit or Snapfluence that connect publishers like yourself with relevant brand sponsorships. Another option is to reach out directly to brands that you think would be a good fit for your profile, and pitch them an idea or proposal for how they could work together.
Finally, as you continue building up your presence on TikTok over time, it's important to stay abreast of any changes or updates made by the platform itself, as these can impact how well you're able to make money from it in the long run. For example, recent updates have included adding more tools for creators who want to monetize their videos via branded content partnerships and partnerships with micropayment platforms like Flitto that allow users to purchase digital goods within videos shared by influencers they follow.
Whether you're just starting out on TikTok or have been an active creator for a while now, there are lots of ways that you can learn more about how best to make money from the platform and grow a successful career as an influencer there. Some great resources include online guides like How To Be A Social Media Influencer: A Guide To Starting Your Career In 2019 or professional courses offered through platforms like Udemy or Skillshare that teach specific skills related to growing an account or brand partnership deals on TikTok specifically. With patience, persistence, and a lot of hard work, there's no limit to how much success you can achieve as a creator on TikTok!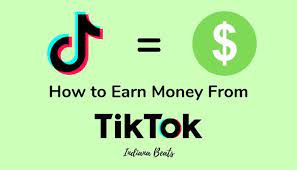 Learn more about
How many likes you need to earn money on TikTok?
How much does TikTok pay creators?